This shipper is a good reliable source for competitively priced fish and clean-up crew.
Their purpose built facility has dozens of meticulously filtered tanks that are filled with Blue Tang awaiting their departure for cities across the globe.
The iridescent apple-green Damsel fish is the most popular fish transported from Indonesian waters, with the bright-red Firefish Goby, and Electric Blue Black and Yellow Cardinal fish species as favourites too.
Their weekly stocklists offer a vast selection of fish, inverts and soft corals from across the Indonesian archipelago.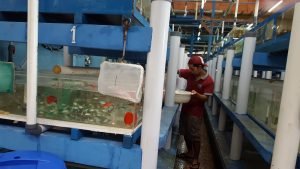 Here is a very small selection our latest stock list for shipment
Log In or Register
Log In or Register to view our availability lists, shipping schedule and very useful guides.